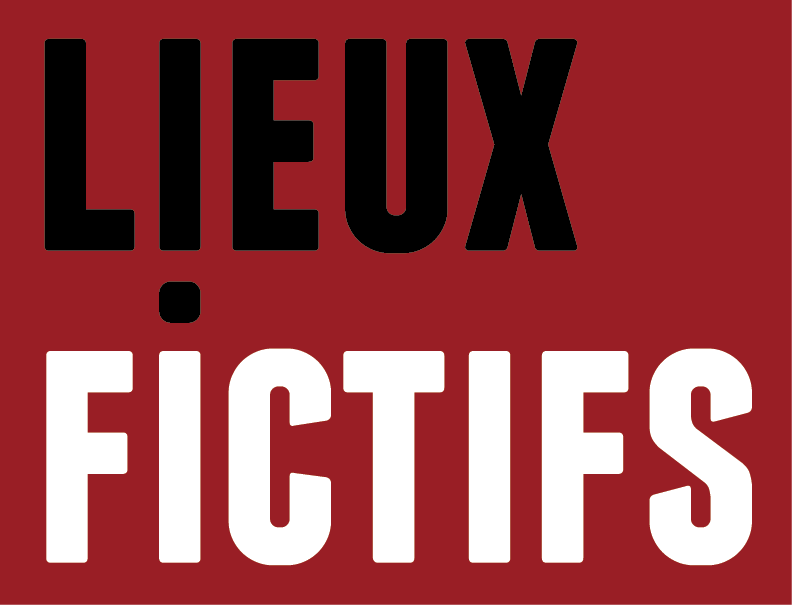 Network - Artistic operators & producers
Lieux Fictifs
Marseilles - France
Lieux Fictifs,
An area for research, education and collaborative creation
Film and new media
Art at the border of territories and persons
Lieux Fictifs is a collaborative area of image education and creation, developing artistic practices on this issue of the « border ». We invite artists to tackle the issue of the transformation of borders that are settled between territories and persons, physical border (the prison), social, cultural and generational ones, but also between art forms, image and sound materials.
In this area that links creation and research dimensions, we welcome filmmakers and artists (drama director, choreographer, sound composer, writer…) as well as researchers and academics. The border issue is addressed between the social and cultural professional fields, but also between arts and scientific fields.
We produce independent films, collaborative creations, image education workshops, research, training and European cooperation programs.
For the general public, we develop a dissemination and edition approach, fitting within a dialogue between Art and Society.
The education and creation process are conducted mainly with offenders, in prison or in non-custodial context, and with other audiences and territories, such as Universities, elite schools, high schools, social care homes, youth and community centres. These environments are often brought together in joint projects.
In this area, creation is an experiment, a bold step into the social space, in an attempt to re-construct the individual's and the community's stories and imagine new representations in places and times that cause them to become fragmented, isolated and erased. Artistic experimentation is considered a lever for transmission and education that allows each participant to shift his or her perspective and reconsider his or her view of him/herself.
The artist's place in writing and creating works, and the place of art into society, are at the centre of this research. Art is an experience of the perception, sense, space, time and emotion, an individual experience that can return one to the other to mutually clear up the meaning.
Each year, artistic experiments are carried out in this workspace by sound and image professionals. These projects combine film making and new media with various other art forms (visual arts, writing, theatre, dance and sound creation).
These experiments are made associating persons (adults and young people) in various artistic contexts (movement, sound, drawing, narration and image). These experiments can lead to the creation of collaborative artworks or be part of participative workshops.
For the last ten years, Lieux Fictifs has been involved in various programs in Europe and Mediterranea area (Italy, Spain, Germany, Norway, Slovakia, Croatia, Lebanon), covering several themes including research and training, through exchanges of methods between artists and public institutions, the setting up of seminars, conferences and workshops, the constitution of innovative education, training and assessment tools.
From 2014, Lieux Fictifs has instigated and coordinated the European network "In living memory: educational and creative network on European archives". This project, supported by the Erasmus+ programme of the European Union, investigates the individual and collective appropriation possibilities from archive image through its transforming.
Interest for archive material
For more than 20 years, the association has set up a permanent audiovisual training and creation action at the prison of Marseille. This experience on image in prison enables us to question with a more radical way the issue of our relationship with preexisting images. In prison, detained persons are physically cut off from reality of the outside world, and their relationship with the television in cell, constitutes for some of them, the only window to the world. Images getting into the prison world, through this television flow, are most of the time suffered. In this particular context, less than outside, the images leave less room for any distancing or displacement process.
Images petrify or anaesthetize the one looking at them, but at no time its power is questioned, nor transformed. How to find a new room between one's self and the image? How to open a space "between" that can enable us to connect with each other, as a spectator?
This is from this questioning that Lieux Fictifs wished from 2006, to develop a research-creation axis with archive footages, through a first founding collaboration with the French National Audiovisual Institute (INA).
In this research-creation, the archive image is considered as a preexisting image inherently carrying a collective, intimate and universal memory. For Lieux Fictifs, archive image is used as the base of a shared work space between different participants (detained persons, young people and adults from the civil society).
Through the various experiences we engage with archive image, participants experience, in a sensitive way, the transforming capacity of images. Then, they can question their relationship with images. Furthermore, in the artistic situation they go through, each one tests him/herself, moves, to question the power of images. Participants gets re-appropriating image to better transform it. This transforming opens a space, in which they can invent and share new possible with the spectators.
Caroline Caccavale – Producer/film director
Lieux Fictifs
Espace de recherche,  d'éducation et de création collaborative
Cinéma et nouveaux médias
L'art à la frontière  des territoires et des personnes
Lieux Fictifs est un espace collaboratif de création et d'éducation sur l'image, qui développe des pratiques artistiques dont le sujet et  le champ d'intervention est la « frontière ». Nous invitons les artistes à se confronter à la question de la transformation des  frontières qui s'établissent entre les territoire et les personnes, frontière physique (la prison), sociale, culturelle ou générationnelle, mais aussi entre les formes artistique, les matériaux de l' image et du son.
Nous accueillons dans cet espace, qui lie des dimensions de recherche et de création, des réalisateurs et des artistes (metteurs en scène, chorégraphe, compositeurs sonores, écrivains…), ainsi que des  universitaires.  Cette question de la frontière est abordée entre les champs professionnels du social et de la culture,  mais aussi entre des champs disciplinaires scientifiques et artistiques.
Nous produisons des films indépendants, des créations collaboratives, des ateliers d'éducation à l'image,  des programmes de recherche, de formation et de coopération européenne.
Auprès du grand public, nous développons une politique de diffusion et d'édition qui s'inscrit dans un dialogue entre l'Art et Société.
Les processus d'éducation et de création se réalisent en grande partie avec des personnes placées sous mains de justice en prison, en milieu ouvert et d'autres publics et territoires dont les universités, grandes écoles, lycées, foyers, MJC, centres sociaux, centre d'éducation et d'insertion… Ces territoires sont souvent reliés les uns aux autres, autour de projets communs.
Dans cet espace, la création s'expérimente, se risque dans l'espace social, cherchant à reconstruire des récit individuel et collectif, à imaginer de nouvelles représentations, dans des lieux et des temps qui les fragmentent, les séparent, les isolent, les effacent. L'expérience artistique est considérée comme un processus de transmission et d'éducation, qui permet à chaque participant de déplacer son regard, de se ré-envisager.
La place de l'artiste dans l'écriture et la fabrication des œuvres, ainsi que la place de l'art dans la société, sont au centre de cette recherche. L'art est une  expérience de la perception, de l'espace, du temps et de l'émotion, une expérience individuelle qui peut se renvoyer de l'un a l'autre pour en éclairer réciproquement le sens.
Chaque année, des expériences artistiques sont menées dans ce contexte de travail par des professionnels de l'image et du son, projets qui croisent le cinéma et les nouveaux media avec différentes écritures artistiques (arts plastiques, écriture, théâtre, danse, création sonore..).
Ces expériences se réalisent en associant  des  personnes (adultes ou jeunes) dans une diversité de situations  artistiques (le mouvement, le son, le dessin, le récit, l'image). Ces expériences peuvent donner lieu à la création d'œuvres collaboratives ou s'inscrire dans le cadre d'un atelier participatif (workshop).
Depuis une dizaine d'années, Lieux Fictifs s'est engagé dans de multiples projets en Europe et en Méditerranée (Italie, Espagne, Allemagne, Norvège, Slovaquie, Cratie, Liban). En particulier sur ce territoire européen, plusieurs dimensions sont développées: la recherche et la formation, à  travers des échanges de pratiques entre artistes et institutions, la mise en Å"uvre de rencontres publiques et de workshops, l'élaboration d'outils innovants d'éducation, de formation et d'évaluation.
L'association a initié et coordonne depuis 2014, le réseau européen In living memory: educational and créative network on European archives. Ce projet explore les possibilités d'appropriation individuelle et collective de l'image d'archive à travers sa transformation.
Intérêt pour le matériau d'archive
Depuis plus de 20 ans, l'association a mis en place une action permanente de formation et de création visuelle et sonore au Centre pénitentiaire de Marseille. Cette expérience sur l'image en prison, nous a permis d'interroger de façon plus radicale la question de notre relation aux images préexistantes. En prison, les personnes détenues sont physiquement coupées de la réalité du monde extérieur et le lien qu'elles entretiennent avec la télévision en cellule, constitue pour certains la seule fenêtre qui s'ouvre sur le monde. Les images qui arrivent dans l'univers carcéral, à travers ce flux télévisuel, sont pour la plupart du temps subies. Dans ce contexte particulier, elles laissent encore moins de place qu'à l'extérieur, à tout processus de mise à distance et de déplacement.
Les images pétrifient ou anesthésient celui qui les regarde, mais à aucun moment son pouvoir n'est interrogé, ni transformé. Comment trouver une nouvelle place entre soi et l'image ? Comment ouvrir un espace « entre » qui nous permette en tant que spectateur de nous relier les uns les autres ?
C'est à partir de ce questionnement que Lieux Fictifs a souhaité dès 2006, développer un axe de recherche et de création avec les images d'archive, à travers une première collaboration fondatrice avec l'Institut National de l'Audiovisuel (INA).
Dans cette recherche-création, l'image d'archive est considérée comme une image préexistante qui porte en elle-même, une mémoire collective, intime et universelle. Pour Lieux Fictifs, elle est utilisée comme le socle d'un espace de travail partagé entre différents publics (personnes détenues, jeunes et adultes de la société civile).
A travers les différentes expériences que nous engageons avec l'image d'archive, les participants font l'expérience sensible de la capacité transformatrice des images. Ils peuvent alors questionner la relation qu'ils entretiennent avec celles-ci. Par ailleurs dans les situations artistiques qu'ils traversent, chacun se met à l'épreuve, se déplace, pour interroger le pouvoir des images. Les participants se réapproprient l'image pour mieux la transformer. Cette transformation ouvre un espace, dans lequel ils peuvent inventer et partager avec les spectateurs, de nouveaux possibles.
Caroline Caccavale- Productrice/réalisatrice
 
Picture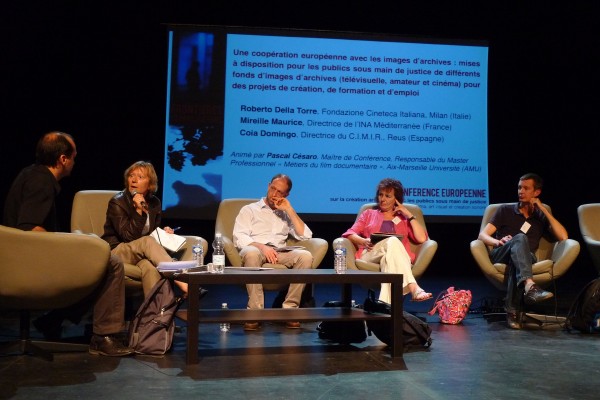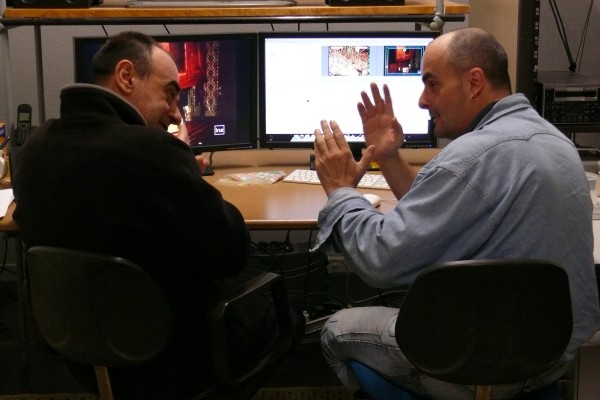 follow us :